TAG Oil announces FY2018 independent reserves results
Wednesday, Jun 20, 2018
TAG Oil Ltd. confirms that ERC Equipoise Ltd. ("ERCE"), a qualified reserves evaluator in accordance with National Instrument 51-101 and the Canadian Oil and Gas Evaluation Handbook, has completed its independent reserves assessment on the Company's producing oil and gas assets within the Cheal (PMP 38156), Cheal East (PEP 54877) and Sidewinder (PMP 53803) permits in New Zealand. This report is dated and is effective as at March 31, 2018.

ERCE has assigned a pre-tax net present value of $97 million (FY2017: $82 million), using a 10% discount rate to the Company's net working interest proven plus probable ("2P") reserves.
Reserves summary by field*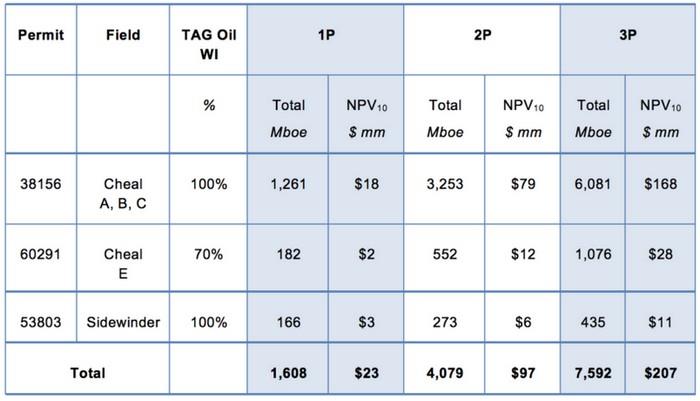 *The reserves and values are gross working interest and pre-tax.
Toby Pierce, CEO commented:
'I am pleased with the reserves and resources that were added due to the waterflood program at the Cheal East permit. We continue to be encouraged by the potential increase in the overall field recoveries from the waterflood. I am also pleased with the increase in 2P NPV 10% after tax valuation to $96.1 million that was up from $78.3 million in the previous year despite the drop to US$68/b from US$70/b in ERCE's long term Brent oil price forecast year on year.'
ERCE's gross 2P reserves estimates at March 31, 2018, were 4,079 Mboe (94% oil) compared to 4,143 Mboe (92% oil) gross 2P reserves reported by TAG Oil at March 31, 2017. The decrease in the Company's reserves of approximately 1.5% is attributable to the following factors:
An approximate 8% decrease due to 351 Mboe produced over the 12-month period in fiscal year 2018.
An approximate 7% increase in annual 2P reserves revisions of 287 Mboe, which is primarily due to technical revisions and reclassification from contingent resources:

A significant reclassification from contingent resources to reserves was from the waterflood program at the Cheal East permit. Additional behind pipe pay opportunities have also been assigned reserves that were not previously included, such as the Cheal-B8 and E1 well re-completions in the Urenui formation.
The technical volumes increased due to a revision on decline performance, which has improved in the Cheal-A3X, B6, B8, B10 and E2 wells, as well as the Sidewinder-1 and 2 wells.
The technical volumes decreased due to revisions to the production profiles in the Cheal-BH1, B2 and B4ST wells. Also, the infill locations for the Cheal-BP and E9 wells were not included in this year's development, as well as the Cheal-A10ST and A7 workover, which have been replaced (Cheal-A10 workover and A7 conversion to injector) as part of the waterflood expansion.
Reconciliation to prior years