Johan Sverdrup drilling topside sailaway
Thursday, May 31, 2018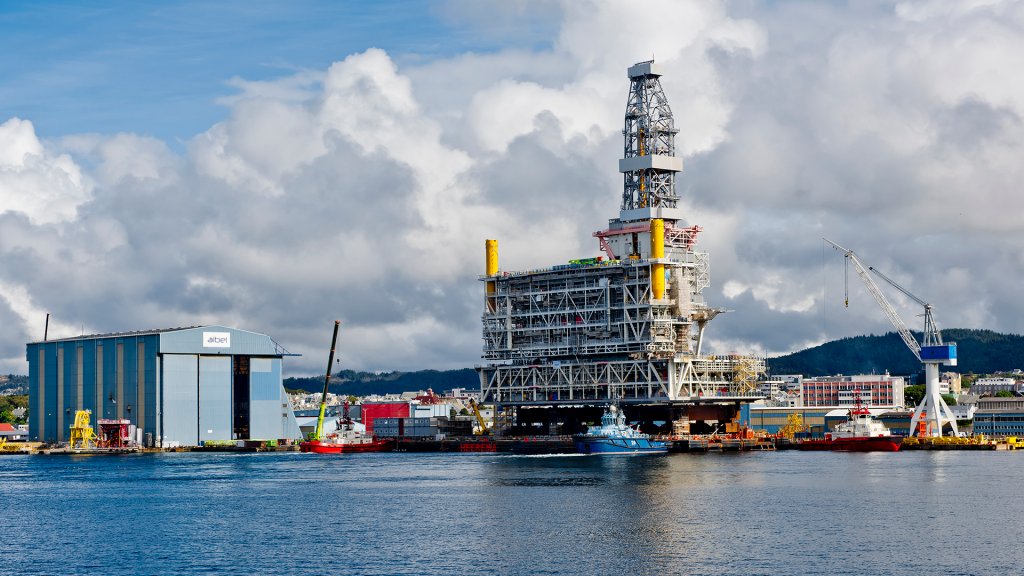 The Johan Sverdrup drilling topside is now sailing from the Aibel yard in Haugesund on its way to the North Sea. The topside is the first, and biggest, structure to be completed and 85-percent fully tested onshore before being installed offshore in a single lift.

The 147-metre Johan Sverdrup drilling platform has been a highly visible landmark in the Haugesund townscape for the last nine months. Today, 31 May, it's good-bye. In the afternoon, four tugs will take control of the barge carrying the topside, heading towards Bømlafjorden at Stord.

Here the 22,000-tonne steel structure will be transferred to the Pioneering Spirit, the world's biggest heavy-lift vessel, before proceeding to the Johan Sverdrup field for installation as the second of four platforms in Phase 1 of the development.

"It's great to see the drilling platform ready for sail-out. Aibel has delivered a high-quality platform, while performing well on safety. When the delivery is also on budget and on schedule, we are of course very pleased. This marks an important milestone for the Johan Sverdrup partnership, Aibel and the Norwegian supplier industry," says Trond Bokn, Equinor's senior vice president for Johan Sverdrup.

Unique construction process

Aibel won the contract for the Johan Sverdrup drilling topside in February 2015. The contract, worth NOK eight billion, came at a very important time for Norwegian supplier industry. It is also one of the biggest individual contracts awarded during Phase 1 of the field development, in addition to being among the biggest on the Norwegian continental shelf.

The largest module, the main deck, was built at Aibel's yard in Thailand. The drilling support module, the second largest unit, was built in Haugesund. The third module, the derrick and associated equipment, was built by Nymo in Grimstad.

The three modules were assembled in Klosterfjorden in early September 2017. The topside was then towed in to Aibel's yard in Haugesund. The past nine months hook-up and fabrication activities have taken place at the yard. At the same time Equinor has completed the testing of equipment on board the platform before the whole topside structure is now being transported offshore.

Lars Håvardsholm, Equinor's project manager for the drilling platform, is very pleased with the job Aibel has done and, not least, the good teamwork during the process.

"This is the first and biggest platform being assembled onshore and prepared for installation offshore in one single lift, so this is path breaking. The plan has been challenging at times, all work from start to finish taking just 39 months, but it has all been excellently delivered both with regard to safety, costs and quality," says Håvardsholm.

At most, 4,000 people in Aibel and 150 people in Equinor have been working on the project. The collaboration with Odfjell Drilling, who will operate the drilling rig, and NOV, the supplier of the drilling facilities, has also been good, according to Håvardsholm.

"We are very pleased with the positive attitude and the collaborative spirit shown by everyone involved in the project," says Håvardsholm.

Great savings
When the drilling platform arrives on the Johan Sverdrup field everything will be lifted into position in one single lift by the Pioneering Spirit heavy-lift vessel. Thanks to the vessel's leading-edge lifting technology it is possible to assemble, complete and test a larger topside structure onshore – which previously had to be done offshore. On the drilling platform, a full 85 percent of the necessary tests are already completed.
This allows for great savings, both of manhours and costs, and by moving the work from offshore to onshore reduces risks related to health, environment and safety.
The Johan Sverdrup topside is the first platform installation job by the Pioneering Spirit, and thus unique in a global context.
Although Aibel and Haugesund are now waving good-bye to the drilling topside, the Johan Sverdrup work is far from over for the yard and town. In April Equinor signed a letter of intent with Aibel worth about NOK 8 billion for the construction of the topside for the second processing platform on the field, part of Phase 2 of the development.
"Close and good collaboration with our suppliers has been essential to the improvements we have seen in Phase 1 of the Johan Sverdrup development. Aibel and the work they've done with the drilling platform has played an important role here, so we're glad to build further on the collaboration, experience and skills in Phase 2 of the development. This gives us a good basis for delivering the next phase of Johan Sverdrup safely, with high quality and on budget," says Bokn.
For more information, please visit:
https://www.equinor.com